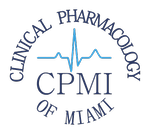 Clinical Research Facility in Miami / Hialeah, Florida
Clinical Pharmacology of Miami was founded to serve a real need for high quality clinical research facility in Miami. We have the experience and facility to conduct safe, precise, well controlled clinical research with new and existing drugs. Part of the ERG Network.
Your liver is vital to your everyday health – join us in discussing the dangers of liver disease and how it unfolds. The largest organ in your body also deserves to take up space in your mind! The Silent Killer Your liver is a life-sustaining organ responsible for various essential
Read More »
World Hepatitis Day occurs every year on July 28th and highlights the need to accelerate the fight against viral hepatitis. This year's #HepCantWait campaign serves to amplify the voices of the people affected by viral hepatitis. Together with our communities, we call for immediate action to end the stigma and
Read More »
June kicks off a critical time for men during Men's Health Month. This initiative serves as a platform to increase awareness of health conditions prevalent in men and what steps to take for early intervention and prevention. Clinical research plays a vital role in advancing care options for these conditions.
Read More »