Clinical research in Miami / Hialeah, Florida
Clinical Pharmacology of Miami
Learn more about your condition, gain access to new treatments, advance medical science.
Participate
in a study
Current Studies
Learn about clinical research and how volunteering for a study can benefit you and your community.
Participant Information
Learn More
We are equipped with the experience, expertise and facility to meet the individual needs of each sponsor and research protocol.
Sponsor/CRO Information
Learn More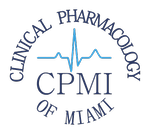 Clinical Research Facility in Miami / Hialeah, Florida
Clinical Pharmacology of Miami was founded to serve a real need for high quality clinical research facility in Miami. We have the experience and facility to conduct safe, precise, well controlled clinical research with new and existing drugs. Part of the ERG Network.
June kicks off Men's Health Awareness Month. It is an annual focus for men of all ages to strive for better health by joining any of the various activities peppering the month. Learning more about the common conditions male populations face and their symptoms is vital to early detection and treatment success.
Read More »
There are over 100 types of liver disease caused by viruses, genetics, obesity, and more. However, most cause damage to the liver and progress in similar ways regardless of the underlying condition. As the disease progresses and damages the liver. Over time, it begins to lose the ability to perform its vital
Read More »
The kidney's filters remove harmful waste and excess fluids from the blood to be removed through the urine. Without that process, the body couldn't maintain a stable chemical balance. The kidneys are instrumental in the body's overall health. Illnesses that damage the kidneys are seldomly noticed until the later stages.
Read More »