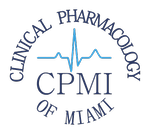 Clinical Research Facility in Miami / Hialeah, Florida
Clinical Pharmacology of Miami was founded to serve a real need for high quality clinical research facility in Miami. We have the experience and facility to conduct safe, precise, well controlled clinical research with new and existing drugs. Part of the ERG Network.
Did you know every day, your kidneys filter 200 liters of blood? Most people aren't aware of how important our kidneys are. That's in part why National Kidney Month began. Every March, health providers and educators immerse themselves into communities. Their focus is building paths to better kidney care. The
Read More »
The following publication discusses the latest research regarding the Non-Invasive Biomarkers of Nonalcoholic Steatohepatitis (NASH). Nature Medicine originally published this article, coauthored by ERG's Vice President of Clinical Pharmacology Services Clay Dehn, on February 10th, 2022. This browser does not support PDFs. Please download the PDF to view it: Download PDF.
Read More »
Kidney diseases are a leading cause of death in the U.S., with 1 in every 3 adults at risk. If your kidneys can't filter blood as well as they should, this can lead to other health problems. Fluid buildup, heart disease, and stroke are a few of the complications of
Read More »