Clinical research in Miami / Hialeah, Florida
Clinical Pharmacology of Miami
Learn more about your condition, gain access to new treatments, advance medical science.
Participate
in a study
Current Studies
Learn about clinical research and how volunteering for a study can benefit you and your community.
Participant Information
Learn More
We are equipped with the experience, expertise and facility to meet the individual needs of each sponsor and research protocol.
Sponsor/CRO Information
Learn More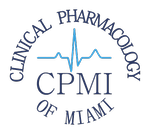 Clinical Research Facility in Miami / Hialeah, Florida
Clinical Pharmacology of Miami was founded to serve a real need for high quality clinical research facility in Miami. We have the experience and facility to conduct safe, precise, well controlled clinical research with new and existing drugs. Part of the ERG Network.
The kidney's filters remove harmful waste and excess fluids from the blood to be removed through the urine. Without that process, the body couldn't maintain a stable chemical balance. The kidneys are instrumental in the body's overall health. Illnesses that damage the kidneys are seldomly noticed until the later stages.
Read More »
A disease is a disruption in the normal function or structure of an organism. For instance, liver disease is an umbrella term covering many conditions that can ultimately affect the proper functions of the liver. Most of these conditions follow a similar path of progression and destruction of liver cells,
Read More »
When I retired after working for the school district for the last 45 years, I thought I had it all planned out. I'm on the healthier side of 67, but eventually, I began thinking a lot about the future and what would be left behind once I pass on. While
Read More »