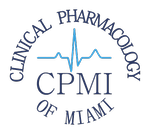 Clinical Research Facility in Miami / Hialeah, Florida
Clinical Pharmacology of Miami was founded to serve a real need for high quality clinical research facility in Miami. We have the experience and facility to conduct safe, precise, well controlled clinical research with new and existing drugs. Part of the ERG Network.
June kicks off a critical time for men during Men's Health Month. This initiative serves as a platform to increase awareness of health conditions prevalent in men and what steps to take for early intervention and prevention. Clinical research plays a vital role in advancing care options for these conditions.
Read More »
When liver disease comes to mind, many are more familiar with the types that occur in heavy drinkers of alcohol or from hepatitis C. On the contrary, the most common chronic liver condition in Western populations is non-alcoholic fatty liver disease (NAFLD). NAFLD affects people who drink little to no
Read More »
When an organ performs over 500 essential functions, you can understand why our overall health and life depend on it working well. There are over 100 different liver diseases, and each has the potential to damage the liver and interfere with its ability to function correctly. Even though numerous diseases
Read More »